By Blake Kolquist on Sep 1, 2020 8:44:40 AM
Manufacturing steel and other metals such as aluminum and copper, takes several different raw materials through a complex process. This process, combined with intense heat and energy, creates the products we all know and rely on every day. Because of the processes these metals endure, it allows us to build homes, skyscrapers, bridges, pipelines, medical devices and more. These precious metals also give us the ability to continue innovating energy sources with wind power, solar, hydro, among others. These products depend on metal manufacturers to put forth quality materials at competitive prices, which is much easier said than done.
Large amounts of water are used in the process of taking raw materials and turning them into a finished product…In some cases, this is up to 75,000 gallons of water per ton of steel. Generally, it isn't "clean" water being pumped, so it's critical to have a tough and reliable pump system to withstand specific challenges like large volumes, abrasion, corrosion, large solids and extreme temperatures. For over 30 years, the GPM-Eliminator lineup of slurry pumps has proven to be an industry leader among some of the largest steel and metal manufacturers in the US and around the world. More specifically, Let's look at three reasons why the GPM-Eliminator outperforms the competition: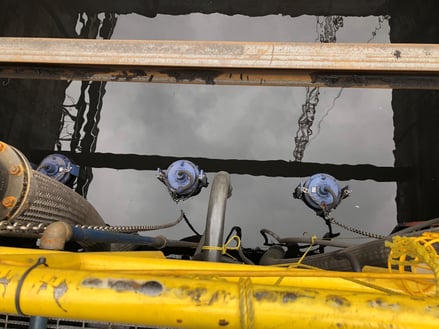 Recycle Cold Well Pumps

Spray Hole Technology
One of the most challenging aspects of pumping in metal manufacturing is the settling out of solids within the sump. For pumps without self-agitation, this can lead to excessive sump build-up and unnecessary downtime to clean out the sump pit. With GPM-Eliminator spray hole technology, our pumps are "self-agitating" and continuously churn up the solids within the sump and remove them through the pump. There is no need for external agitation sources which saves valuable time and money for the operations and maintenance of a metal manufacturing facility.
Motor Durability
All GPM-Eliminator pumps are built with Class H insulated motors which are made to handle the extreme temperatures that molten metal creates during the descaling process. Near boiling temperatures are no match for the robust design of the GPM-Eliminator's motor, which is the heart of the submersible pump. Our motors are so durable they can run dry and unsubmerged without overheating or failing.
Materials of Construction
Pumping mill scale is no doubt hard on a pump's impeller, casing and wear plate. The GPM-Eliminator standard materials of construction in the "business end" of the pump are 650 BNH and a 28% Hi-Chrome alloy. This combination has proven time and again to hold up in the most abrasive metal manufacturing environments.

| | |
| --- | --- |
| | |
| Blast Furnace Recycle Slurry Pump | Scale Pit |
Every metal manufacturing operation and process is unique. The versatile lineup of GPM-Eliminator submersible pumps, mono-bloc pumps, amphibious pumps, horizontal pump and extended shaft pumps have withstood the test of time in the toughest applications with great success. To increase your metal manufacturing process efficiency and reliability and while reducing your maintenance costs, Contact your GPM representative today!