By GPM, Inc. on Jul 16, 2016 9:03:00 AM
Duluth, MN: Rob West, CEO of GPM, Inc., announced today that Terry King was appointed as the Director of Engineering for the company. In this role, King will oversee all aspects of engineering and design within GPM, as well as coordinate efforts for special engineered products.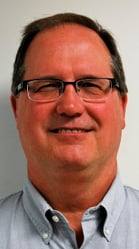 King brings with him extensive experience in engineering management and over 30 years of industrial manufacturing experience, including heavy machining plant management, foundry and fabrication. He most recently worked as the General Manager of American Precision Avionics in Duluth. King is a graduate from Iowa State University and holds an MBA from the University of St. Thomas. In addition, King is a Certified Practitioner of Inventory Management (CPIM) and a member of the American Production Inventory Control Society (APICS).


"Terry is a very talented individual and we are thrilled to have him join the GPM family," said West. "He brings valuable engineering and manufacturing experience to our senior management that will complement our future plans for growth."


GPM continues to grow by adding new pump products and capabilities with their engineered systems for dewatering and slurry management in mining, power generation, refining and wherever process water is used.