By GPM, Inc. on Apr 1, 2020 6:50:27 PM
ONE-STOP-SHOP FOR BLOWER AND VACUUM PUMPS NEEDS

GPM REPRESENTS THE INDUSTRY'S LEADING OEMS

GPM is proud of the employees that serve our customers, especially in the times they need us to deliver for them most – downtime, unplanned outages, broken equipment, the GPM Service & Repair team has seen it all. Our factory-trained team brings decades of experience to the table, whether you are looking for spare parts, a repair on an old pump or preventative maintenance, we have you covered. When it comes to our blower and vacuum pump capabilities, we lean on our Apple Valley, Minnesota Service and Repair Center.

Anyone who has worked with GPM for blowers or vacuum pump needs knows Greg Chester. He's our go-to guy down in our Apple Valley service and repair shop. Greg brings over 30 years of experience working directly with blowers and vacuum pumps. Greg is factory-trained in a variety of brands, including Howden Roots, Becker and Dekker among others. Greg leads the team on service and repair, warranty needs, field service and complete blower packages.

GPM's Full-Service Blower and Vacuum Pump Offering

SALES
GPM is not only an OEM for the GPM-Eliminator™, but we are an authorized reseller for many top-of-the-line products and parts brands. We carry the best when it comes to blowers and vacuum pumps: Howden Roots, Becker, Dekker and more. We have partnerships with these companies and work together to get the right parts and systems spec'd for every project. To see a full line-up of the brands we carry and support, visit our website or contact our team.

SERVICE
GPM's Service & Repair Centers are fully authorized and our team is trained to provide service and repair on the products we manufacture, represent and all other makes and models. Everything that leaves our shop on a repair is brought back to OEM specifications and has full documentation for the work provided. We're also ready to respond quickly for unexpected outages and system troubleshooting – and with full field service capabilities, our team can come to you.

SPARE PARTS
Along with our service and repair capabilities, GPM is able to offer a wide array of spare parts for our customers. We have a large inventory of parts to get your equipment back to spec quickly and alleviate any lag in your operations. Commonly replaced items include bearings, seals, gaskets, O-rings and even rotors, gears housings etc. We also stock spare parts kits complete with all consumable items to get your equipment back up and running quickly.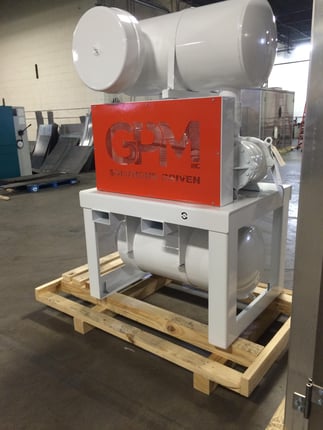 PACKAGES
GPM has full blower and vacuum pump packages available for any job, in any industry, in combination with any of our engineered systems. These packages include baseplates, motors, blowers, couplings, guards, silencers and full sound enclosures. Purchasing a blower package from GPM gives you the ability to drop the complete package into place within your system.

CONSULTING
GPM is an experienced team of engineers, technicians and service and repair experts, and more. With over 40 years of operation under our belts, our customers trust us to evaluate their jobs, needs and existing equipment and provide recommendations for improving operations and driving ROI.

GPM Service & Repair Centers are ready to spring into action whether you have unexpected or scheduled maintenance. Be sure to contact Greg Chester for blower and vacuum pump needs – he is located in our Apple Valley Service & Repair Center and can be reached at: 952-683-1294 or by email: gchester@gpmco.com.

For more information on GPMs blower and vacuum pump capabilities and product line, download our blower and vacuum overview to learn more.


GPM is an Authorized Service Center and/or distributor for:
-GPM-Eliminator
-Flowserve
-Sundyne
-Howden Roots
-Iwaki
-Dekker

-Tsurumi
-Ebara
-Philadelphia Mixer
-Gorman Rupp
-Netzsch
-Becker