By GPM, Inc. on Feb 28, 2019 11:19:53 AM
Like all of our best projects, creating the new GPM, Inc. website took the hard work of a dedicated team. Our customers expect the very best from us, and we wanted our new website to reflect the GPM our customers have come to rely on. While we know the personal nature of our customer relationships are highly valued, we set out to make it easier for our customers to access the information they need from us online.

Before you take a look, here are a few things we wanted to accomplish with our site refresh.
New, Modern Design

We're not afraid to admit that we wanted our new site to look good – but boy we were pleased by the results. This site is educational, functional and looks great – only a few of our main goals when working to redesign our current site. Who knew pumps could look so good? (Actually, we knew, and we wanted to show 'em off a little bit.)

Our team felt it was important to modernize our visual appearance and streamline the navigation to better showcase the GPM brand, our expert capabilities and the incredible line of products we represent.

Streamlined Navigation

We thought long and hard about how our customers use the GPM website today, and what adjustments would make our website easier to navigate. Nobody has time to fiddle around until they finally find the page they need. We streamlined the site navigation to the core essentials of what GPM does – GPM-Eliminators™, Products & Parts, Service & Repair and Engineered Fabrication, making it easy for our visitors to find the pages they need and the information they are looking for.

We also knew it was important to make our site accessible from any device, anywhere. Many of our customers are accessing our site on the job – using smaller screens. Our new site is easier to use (and looks great) on any mobile device, tablet or computer. So, feel free to access it using the device and web browser you're already used to using.

Telling the GPM Story

Over the course of 40 years in this industry, we've done a lot of thinking about our company and the many moving parts that make us who we are. We wouldn't exactly call it soul searching, but we've spent a lot of time narrowing down our core business pillars – the things we do that make us GPM. When thinking about a new website, we wanted it to be clear to our visitors what GPM does, and who we are as an organization.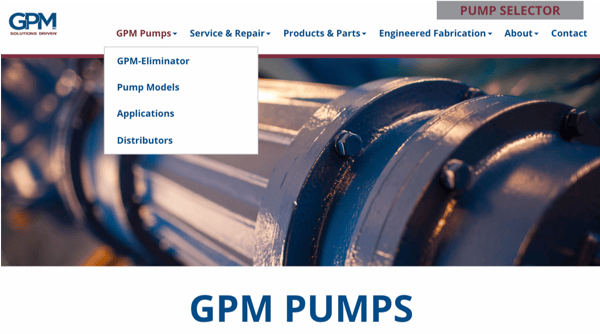 What has GPM always done? Pumps. We're proud of the pumps we manufacture, and now it's easier than ever for you to find the pump you need. Just visit the GPM Pumps page and view our available GPM-Eliminator models. You'll also find handy resources to download throughout the site. For example, if you want to spec a pump – which is a request we hear a lot from our customers – just click on "How to Specify a Pump" and you'll be on your way to finding the right pump for the job.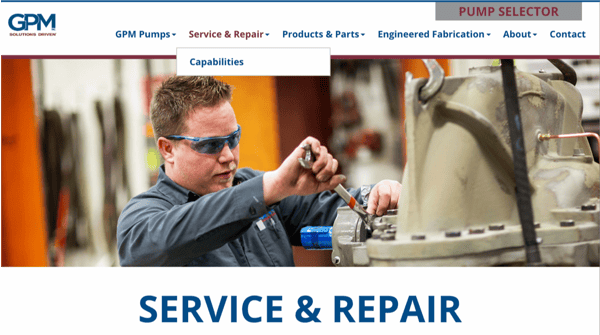 Our Service & Repair Center team is top notch; our team is the best in the business. If you've got a pump or a product that isn't performing up to par, or simply needs a tune up, talk to our Service & Repair team. Our capabilities stretch far beyond our OEM product line, servicing some of the top manufacturers in the world, along with a number of legacy products and parts.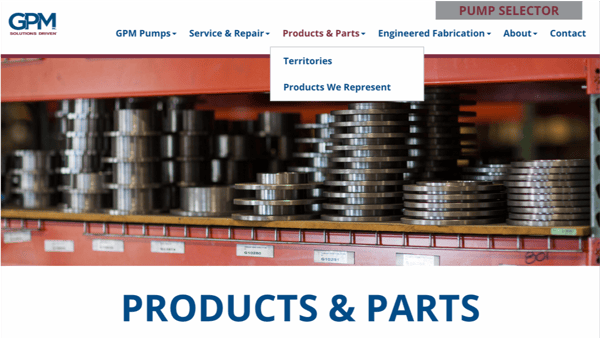 GPM distributes excellence. We represent the premier manufacturers in the rotating equipment industry. GPM specializes in pumps, blowers, mechanical seals, mixers, gearboxes, fans, cooling towers, motors and drives and more. If you need a pump, part or product, you'll find it here. Visit the Products & Parts page to find the brands you trust and talk to your GPM sales rep about securing the products and parts you need.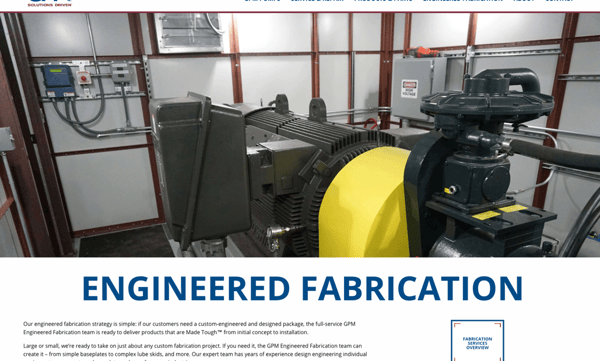 Our Engineered Fabrication team is always working on innovative solutions to the challenges our customers face. We want to know how to help a customer's project, operation or job site run smoother. If you have a unique situation that requires a custom-engineered and designed package, our team is ready to deliver. Visit the Engineered Fabrication page to get in touch with the team and see our capabilities.

We're pretty proud of the work we've done to better represent our brand online. We invite you to be some of the first to browse our new site.