Mining is truly the backbone of northern Minnesota's economy. Valuable iron ore is mined and processed across the region then sent out to feed the steel mills which manufacture the steel for use in everyday items like automobiles, appliances, construction materials and much, much more.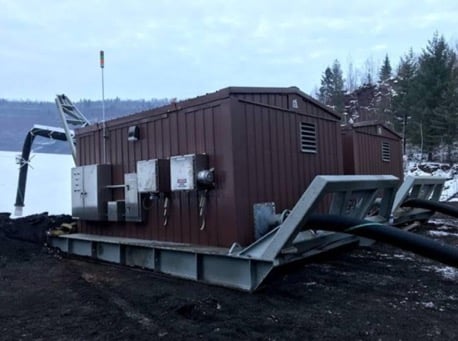 The GPM Solution:
The GPM Engineered Fabrication team met with the client to take a deep dive into the challenge: maintaining efficiency and minimizing downtime with maneuverable dewatering pumps so water can be moved across the mine. Armed with the desired end-result, our team of experienced engineers worked diligently to design a solution built around a self-priming pump system with a retractable suction hose built in a climate-controlled enclosure all sitting on top of a Made Tough heavy-duty base super structure.

Check out our time-lapse video of the build.

We engineered two custom dewatering pump houses designed to get the job done. Each pump house included:

A Heavy-Duty Base Skid
A mine site is no place for fragility. Our base skids were Made Tough so they could be pushed and pulled around the site by heavy mining equipment. We included an extension boom strong enough to support the retractable suction hose and skid plates to extend wear life and to ease friction during pump house relocation.


A Weather-Resistant Equipment Enclosure
Minnesota is home to 10,000+ lakes and nearly as many seasons (or so it seems!). We built a ventilated enclosure complete with heating and cooling elements to keep the equipment and personnel at reasonable temperature levels. A removable roof makes it easy to access the equipment for maintenance.


High-Powered Motors
We weren't about to install a heavy-duty pump without sufficient horsepower to operate in the toughest conditions. That's why we installed factory-tested Toshiba 800hp, 4160 VAC motors.


Efficient Pumps
Cornell's 81024MX series pumps come with industry-leading pumping efficiencies up to 78%. These pumps are also equipped with the REDI-PRIME® system which provides more flow, reduced friction losses and higher suction lift. The system also includes a positive sealing float box with a diaphragm vacuum pump which eliminates water carry-over so there is nothing to contaminate the environment.


Hydrualic Testing
The pumps and motors were subject to full-load hydraulic testing performed at the factory prior to installation.


Value-Added Condition Monitoring
With reliability being vitally important to a remote dewatering pump application, GPM incorporated multiple condition-monitoring devices to provide data and feedback on the operating system including:

Vibration monitoring of pump and motor
Temperature monitoring of pump & motor bearings, motor winding
Suction and discharge pressures
Flow rate
Condition monitoring solutions from GPM help identify problems before they become catastrophic, so clients can be sure their pumps are performing optimally while avoiding common problems such as performance losses, cavitation, imbalance, temperature, bearing failure, structural integrity etc. Issues like these can lead to unnecessary downtime and lost-production. GPM's condition monitoring solutions provide the necessary feedback to ensure the system runs as it was designed to with minimal interruptions.

Are Dewatering Challenges Slowing Production?

If you've got water somewhere it shouldn't be, you've got a dewatering problem on your hands – and GPM can help. Download our Dewatering Brochure to learn more.